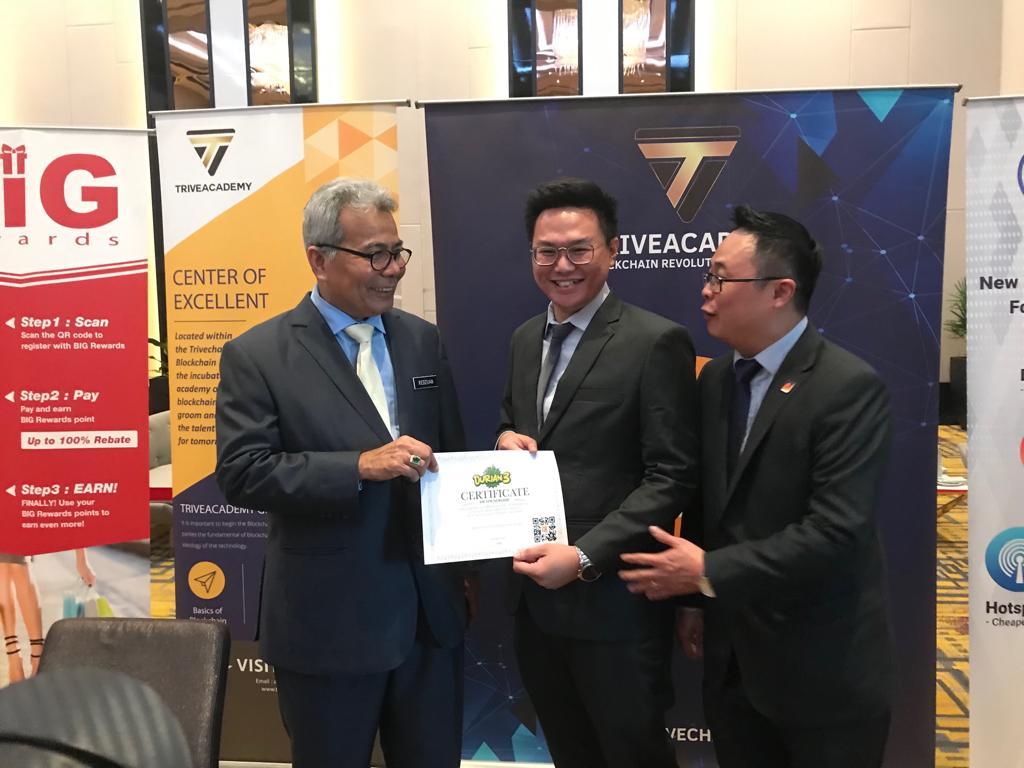 The ownership of Durian trees in Malaysia has been recorded on the blockchain system, indicating the actual owner of each tree and providing evidence of ownership that is accessible to all parties in the public blockchain, thereby benefiting both farm owners and investors. TriveAcademy, a company focused on building blockchain technology infrastructure, has launched a new app. The app allows users to view time-stamped certifications of appreciation and ownership, for example, the Bloconomic Expo 2019 and durian tree owners, respectively. Both certificates are now stored on the blockchain and viewable by the public.
The Bloconomic Certificates of Appreciation serve as proof of the participation of all speakers and volunteers during the Bloconomic Expo 2019. By storing these certificates on the blockchain, TriveAcademy provides immutable and transparent records of the event that can be accessed and verified by the public. Meanwhile, the Certificate of Ownership for Durian Tree Owners is a new initiative that aims to identify the real owner of each durian tree and provide proof of ownership. These certificates are also time-stamped on the blockchain, providing security and trust to farm owners and investors alike.
Trivechain, the technology behind the app, is managed by a decentralized autonomous organization (DAO) and is focused on games and entertainment. TriveAcademy founder, Tan Ji Sheng, recently gave a keynote speech on Trivechain at BLOCONOMIC conference, where he discussed the future planning and practical application of Trivechain. TriveAcademy is also looking to partner with local universities to encourage the use of Trivechain technology in their projects and to nurture talent in understanding blockchain technology.
Trivechain is inviting interested developers to apply for the development fund through the DAO governance system. The project hopes to build a friendly and efficient development ecosystem in the blockchain environment. For more information on Trivechain, visit their official website at www.trivechain.com.